Member Benefits
As a member of the Wilmington Chamber, you're joining a powerful, diverse team working to build a healthy regional economy. Why join?
Member Programs
The Wilmington Chamber of Commerce, Wilmington and Beaches Convention & Visitors Bureau (CVB), and the City of Wilmington have partnered with mobile app developer Appycity to help connect Wilmington residents and visitors to information resources through a new app network in which everyone can be a part. Wilmington's "digital dome" links the Chamber, CVB and City's apps—as well as many of the area's biggest attractions, businesses and organizations—providing incredible potential exposure for your business. Each time someone downloads any of these free apps, information about your business will be available on each of these mobile apps:
Wilmington Chamber of Commerce
Wilmington & Beaches Convention and Visitors Bureau
City of Wilmington
New Hanover County Schools (35 schools apps)
NC Azalea Festival
Battleship North Carolina
NC Aquarium at Fort Fisher
Cameron Art Museum and more
Get Connected
Chamber members and CVB partners receive a free, basic business listing in the organization's app. A "full access" app can be purchased on an annual subscription basis that will allow businesses to:
Offer coupons, specials or daily deals;
Customize their app with their logo and colors;
Add a description and unlimited images;
Connect their website and social media outlets;
Post special events (using an MP3 feed,video, website, RSS, etc.) and sell tickets;
Make posts in real time;
Tie in an existing app and distribute it thru the network and more.
Cost
Chamber members: $399 annually (A 60% discount off the normal price just for being a Chamber member!)
Non-Chamber members: $999 annually
Non-Profits: $250 annually
Contact
For questions or to purchase a full access app plan, contact: Scott Czechlewski: 762-2611 ext. 216 or czechlewski@wilmingtonchamber.org
Wilmington Chamber of Commerce
Discount Prescription Drug Card
This program is being provided to Chamber members and their families to help lower your prescription drug costs. Simply create and print your FREE Prescription Drug Card below and receive savings of up to 75% (discounts average roughly 30%) at more than 56,000 national and regional pharmacies. This card can be used as your primary plan and/or it can be used on prescriptions not covered by your insurance plan. This program also includes other value added programs which will be listed on the card. Please enter your name in the box below and we will generate a printable membership card for you (no application/enrollment or eligibility required). This program has "LOWEST PRICE" logic to guarantee that you get the best deal on your prescriptions. (You pay the lower of a discount off Average Wholesale Price–AWP, discount off MAC Pricing or Pharmacy Promotional/Retail price). This card is pre-activated and can be used immediately!
Includes the Following Programs:

Participating Pharmacies Include: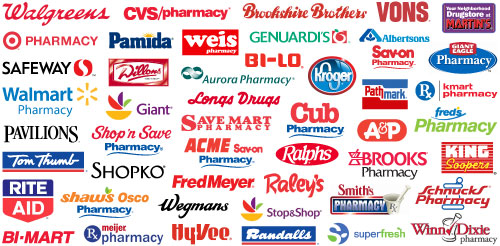 The Wilmington Chamber of Commerce membership decal brands your company with the long history, credibility and reputation of the Wilmington Chamber of Commerce. As you know, this speaks volumes to your involvement and commitment to making our city and region the best place to live and work. As a member benefit we offer an electronic Chamber decal ("E-Decal") for use on your website or inclusion on emails you send to customers. Please download, print, sign and fax or mail this Usage Guidelines Agreement for the E-Decal Logo.
How does it work?
The program is voluntary. Discounts can be offered by Chamber members in good standing to other Chamber members and the member business's employees. Simply fill out and return the form below and the Chamber will publicize the discounts to our nearly 1,000 members.
What types of discounts can be offered?
Any type of discount can be offered, such as a percentage off the purchase price. For instance, a 10% discount off the price of a car rental or 15% off color copies. Or a "freebie", such as a free dessert with a customer's meal. Be creative and consider your target market.
What is the benefit?
First and foremost, bringing in customers and promoting your business, without the cost of advertising. Discounts will be advertised in Chamber publications and through the Chamber website. The program encourages Chamber members to do business with other Chamber members. It also provides Chamber members with an opportunity to offer their employees an additional benefit in the form of discounts at area businesses.
Interested in Offering a Discount to Your Fellow Chamber Members?
Print and fax back our Member-to-Member Discount Offer Form.
Disclaimer: All specific details and restrictions of the discount are to be handled by the vendor. Discounts are subject to change or withdrawal at any time and are at the discretion of the individual business. The Greater Wilmington Chamber of Commerce does not endorse goods or services and assumes no liability or responsibility for the provision or acceptance of goods or services. Any disagreement or dispute between the customer and participating vendor is the responsibility of the parties to resolve. Participation in this program is voluntary. The Chamber of Commerce reserves the right to reject any proposed goods or services which it deems objectionable or detrimental to the program.
Member-To-Member Discount Offers
All offers listed below are only available to Wilmington Chamber of Commerce member businesses/organizations and their employees.
Amusement & Entertainment
Medieval Times Dinner & Tournament
Discount: Enjoy 25% off admission at all 9 locations. Visit Discount Details
Contact: Jennifer Willard at 843-236-4635 or email jennifer.willard@medievaltimes.com
Automobile Dealers
Jeff Gordon Chevrolet
Discount: Free oil changes and discounts on everything from Window Tinting to Vehicle Purchases. Chamber members and their employees can join our Loyalty Reward Program at no cost. The program entitles you to discounts and savings for your vehicle(s) regardless of make or model. Discounts in all departments (New, Pre-Owned, Service, Parts, Detail & Body Shop) so, no matter what your vehicle needs are, there will always be savings.
Contact: Mark Santilli at 910-798-2717 or email mark.santilli@hendrickauto.com
Cellular Telephones and Service
CPR Cell Phone Repair
Discount: 10% off quoted price on cell phone, tablet, laptop and gaming system repairs.
Contact: Parker at 910.859.7694
Consultants - Business
The Alternative Board (Cornerstone Advisory Partners)
Discount: One-hour consultation on Strategic Business Leadership (SBL). This consultation will help you create a strategic plan for your company or department - focused on improving your profitability and achieving your goals. Includes financial benchmarks for your specific industry.
Contact: Dallas Romanowski at 332-7173.
Customer Loyalty Digital Rewards Program
Customer Rewards
Discount: The Wilmington area has a new, unique program to help local businesses retain their customer base and grow repeat business: Custom Rewards, Inc. Customers can use a customized app and cutting edge Smart Stamp and redeem their rewards. This new program also allows local businesses to track customer data, participation, along with demographics. Customers will be able to interact and earn rewards through a dedicated Stamp Reward app custom designed for the business. As a special introduction into the Wilmington market, Custom Rewards, Inc. is offering a $50 discount on the initial set up fee, and, one month FREE on the Basic 3 Month Program, for those businesses who would like to take advantage of this new technology.
Contact: Sam Weddle 465-0879 or www.APPrec8u.com.
Dermatology
Wilmington Health Associates - Dermatology & Laser Center
Discount: 10% off laser hair removal services.
Contact: Catherine Ackerman at 796-6037.
Employment Agency
Sea Coast Staffing, Inc.
Discount: 10% off first job order.
Contact: Shari Porter at 791-3000.
Employment Screening Services
Castle Branch
Discount: 20% discount on background checks for Chamber members.
Contact: Candy Haynes at 888-666-7788 ext. 7252.
Financial Services
Alliance Credit Union
Discount: Free portfolio review and analysis.
Contact: James Gregory - Financial Advisor - Alliance Credit Union - CUSO Financial Services, L.P. at 910.793.2232.
Hair Salons
Solar Hair Salon
Discount: 20% discount on color services (new clients only); 10% discount on hair cuts; and 10% discount on hair care and tanning products.
Contact: Kay Hovious at 620-2874.
Hotels/Motels
Hampton Inn & Suites Landfall Park
Discount: 10% off best available rate
Contact: Sylvia Caldwell at 910.509.0005
Hampton Inn Medical Park
Discount: 15% off room rates
Contact: Kim Garner at 910.796.8881
Sleep Inn
Discount: 10% discount off our best available rate.
Contact: Pat Walters, Director of Sales, at (910) 392-1741.
Jewelers
Kingoff's Jewelers
Discount: 15% discount on merchandise and services
Contact: Michael Kingoff at michael@kingoffs.com
Moving/Storage
Two Men and A Truck
Discount: 10% discount on moving service. 20% discount on storage.
Contact: Frank Baker at 763-7990.
Office Supplies, Equipment & Furniture
Office Depot
Discount: Office Depot, Inc. and the Chamber have partnered to provide exclusive savings on all of your business needs, including deep discounts on:
Office Essentials
Cleaning and Breakroom Solutions
Copy & Print Services
Technology
Furniture

Let Office Depot save you time and money! Whether you're a company of five or 10,000 employees we can help!
REGISTER
Questions? Contact: Susan Meier – (910) 233-0653 / Register in-store or online today!
Payroll Service
ADP Automatic Data Processing
Discount: 15% off lifetime discount on HR, Tax Filing, Compliance and Payroll Services. RUN was built from the ground up as an online payroll application - this means that all you need to run payroll for your business is web access. You don't need to remember anything more than your user id and password and you can run your payroll from anywhere, at any time. It's easy. You don't need to be a payroll expert, you don't even need to be a technology wiz.
Contact: Jordan Mebane at 336-213-7491
Physicians & Surgeons
Wilmington Plastic Surgery P.A.
Discount: Purchase a Laser package of 6 treatments or more and receive a 10% discount.
Contact: Guy Williams at 509-7546.
Real Estate
Just For Buyers Realty, Inc.
Discount: Will cover the cost of the closing attorney (up to $450) for any member who uses the services of Just For Buyers Realty, Inc. to purchase a home or residential investment property.
Contact: Kathleen Baylies at 470-3190.
Restaurants/Clubs
City Club of Wilmington
Discount: 70% discount off initiation fee for new members. Membership: $1,500 less 70%.
Contact: Pat Walters at 343-1880 ext. 206.
Tropical Smoothie Cafe
What We Offer: Breakfast, Lunch, Dinner, Curbside Pick-up, Delivery, Catering
Discount: 15% discount off entire order. Includes in-store, delivery and catering. Hosting a Chamber BizMix? Let Tropical Smoothie Café cater the event for you and get a 10% discount off your order.
Contact: Brandon Korman at 910-769-3939 or tsclongleaf@gmail.com.
Reward Program
Custom Reward, Inc.
Discount: All Chamber members will receive a $50 discount on the initial set up fee for all programs, and will receive one month free on the "Basic Program" of 3 Months.
Contact: Sam Weddle 465-0879 or sam@apprec8u.com
Security Services
Holmes Security Systems
Discount: 3 months of free monitoring with any new system installation or when you switch your current monitoring to Holmes Security.
Contact: Jeff Harnsberger at 793-4181.
Signs
Signs By Tomorrow
Discount: New ownership special offer! Take 15% off of your first order with the new owners.
Contact: Roy Morgan at 799-1111
Telecommunications
Access Point, Inc.
Discount: Free hosted IP Phone Service Trial. 3 free months of IP Phone service with a minimum 1-year agreement.
Contact: Emily Miller at (919) 827-0389
Website Design/Hosting
Inferno Web Design
Discount: 10% off web and graphic design services. 25% off hosting with production of a new website or with a new maintenance agreement with transfer from an existing provider.
Contact: Justin Luttmer at 794-9643
Wireless Communications
Verizon Wireless/Cellular Sales
Discount: Free high speed USB Internet card (after $50 rebate); normally $99.99. Monthly discounts available. $20 off any phone and 20% off accessories.
Contact: Phil Petrides at 409-2411 or Mike at 409-3222.
Leadership
A 38-member board of directors develops the vision and goals of the Chamber. Each understands the value of the Chamber to the community and its members, and dedicates their time toward advancing the interests of each. Representation on the board is diverse…from family-owned businesses to global corporations. The unique perspective that each member brings to the table is an asset that will serve you and our community well.
Lobbying Efforts
Local and state legislation affecting business is monitored and lobbied for/against by committees, task forces and Chamber staff. Your interests are being protected on such issues as transportation, the port, beaches, health care, the environment, insurance, and more. We also meet regularly with our state and local elected officials to provide our annual Legislative Agenda for Business, direct input from the business community on issues of importance. View the Chamber's 2016 Public Policy Agenda…
Community Improvement
The Chamber works to improve the quality of life in the region through its flagship program Cape Fear Future. The initiative is helping ensure the region has economic prosperity, higher-paying jobs, and the skilled workforce required by area businesses for decades to come.
Economic Development
The Chamber aids the economic growth of the community by attracting new residents and supporting the recruitment of new business.
Contacts
Beginning with Member Briefings, where you are introduced to networking possibilities, the Chamber offers ways to make contacts with other members through socials, expos, conferences, committee meetings, and special events.
Referrals
We receive thousands of requests each year for recommendations on goods and services in the Greater Wilmington area and we refer our members.
Marketing Your Business
Member businesses receive a listing in our online membership directories on the Chamber website and on the Chamber mobile app, plus announcements of new and renewing members are made in our weekly email newsletter. Numerous marketing opportunities are available through sponsorship of Chamber events, purchase of advertising space in Chamber publications, or through more creative methods like hosting a BizMix social networking event.
Expos
Business-to-business expos are conducted twice a year which allow members to market their products and services to other Chamber members and the community.
Training and Education
On average, the Chamber offers 8-10 free seminars on a wide range of business topics throughout the year, from marketing and healthcare to IT and a safe workplace.
A Membership That's Right For You
Because our members range from sole proprietors to global corporations, and have varying needs from their Chamber membership, we have developed a tiered membership structure that offers a wide range of possibilities.
Find your place in the business community.
Questions? Contact:
Faye Dunaway
Telephone: (910) 762-2611, Ext. 211
Fax: (910) 762-9765
dunaway@wilmingtonchamber.org