Member Benefits
As a member of the Wilmington Chamber, you're joining a powerful, diverse team working to build a healthy regional economy. Why join?
Member Programs
Wilmington Chamber of Commerce
Discount Prescription Drug Card
This program is being provided to Chamber members and their families to help lower your prescription drug costs. Simply create and print your FREE Prescription Drug Card below and receive savings of up to 75% (discounts average roughly 30%) at more than 56,000 national and regional pharmacies. This card can be used as your primary plan and/or it can be used on prescriptions not covered by your insurance plan. This program also includes other value added programs which will be listed on the card. Please enter your name in the box below and we will generate a printable membership card for you (no application/enrollment or eligibility required). This program has "LOWEST PRICE" logic to guarantee that you get the best deal on your prescriptions. (You pay the lower of a discount off Average Wholesale Price–AWP, discount off MAC Pricing or Pharmacy Promotional/Retail price). This card is pre-activated and can be used immediately!
Includes the Following Programs:

Participating Pharmacies Include: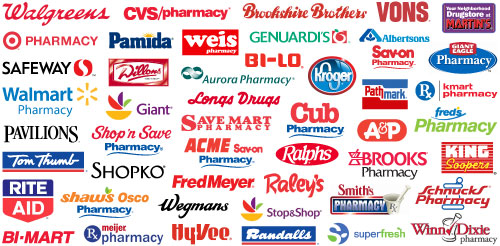 The Wilmington Chamber of Commerce membership decal brands your company with the long history, credibility and reputation of the Wilmington Chamber of Commerce. As you know, this speaks volumes to your involvement and commitment to making our city and region the best place to live and work. As a member benefit we offer an electronic Chamber decal ("E-Decal") for use on your website or inclusion on emails you send to customers. Please download, print, sign and fax or mail this Usage Guidelines Agreement for the E-Decal Logo.
How does it work?
The program is voluntary. Discounts can be offered by Chamber members in good standing to other Chamber members and the member business's employees. Simply fill out and return the form below and the Chamber will publicize the discounts to our 1,250 members.
What types of discounts can be offered?
Any type of discount can be offered, such as a percentage off the purchase price. For instance, a 10% discount off the price of a car rental or 15% off color copies. Or a "freebie", such as a free dessert with a customer's meal. Be creative and consider your target market.
What is the benefit?
First and foremost, bringing in customers and promoting your business, without the cost of advertising. Discounts will be advertised in Chamber publications and through the Chamber website. The program encourages Chamber members to do business with other Chamber members. It also provides Chamber members with an opportunity to offer their employees an additional benefit in the form of discounts at area businesses.
Interested in Offering a Discount to Your Fellow Chamber Members?
Print and fax back our Member-to-Member Discount Offer Form.
Disclaimer: All specific details and restrictions of the discount are to be handled by the vendor. Discounts are subject to change or withdrawal at any time and are at the discretion of the individual business. The Greater Wilmington Chamber of Commerce does not endorse goods or services and assumes no liability or responsibility for the provision or acceptance of goods or services. Any disagreement or dispute between the customer and participating vendor is the responsibility of the parties to resolve. Participation in this program is voluntary. The Chamber of Commerce reserves the right to reject any proposed goods or services which it deems objectionable or detrimental to the program.
Member-To-Member Discount Offers
All offers listed below are only available to Wilmington Chamber of Commerce member businesses/organizations and their employees.
Advertising-Direct Mail
Valpak of Coastal Carolina
Discount: Free Zone of 10,000 households in your first mailing when you advertise a minimum of 2 Zones (20,000 households) per month for a minimum of 4 months. Also, refer someone who then advertises with Valpak for a minimum of four months and both the company making the referral and the company referred will receive a free Zone of 10,000 households in their next mailing.
Contact: Mike Halpern at 200-7800 or mikehalpern@bellsouth.net
Advertising/Publishing
Town Planner Community Calendar
Discount: 5% off on all advertising options.
Contact: Donna Hagan at 910-371-1553
Amusement & Entertainment
Medieval Times Dinner & Tournament
Discount: Enjoy 25% off admission at all 9 locations. Visit Discount Details
Contact: Jennifer Willard at 843-236-4635 or email jennifer.willard@medievaltimes.com
Audio/Visual Equipment & Systems
Atlantic Custom Media
Discount: 10% off any service.
Contact: Lydia Walker at 910.805.2432
Automobile Dealers
Jeff Gordon Chevrolet
Discount: Free oil changes and discounts on everything from Window Tinting to Vehicle Purchases. Chamber members and their employees can join our Loyalty Reward Program at no cost. The program entitles you to discounts and savings for your vehicle(s) regardless of make or model. Discounts in all departments (New, Pre-Owned, Service, Parts, Detail & Body Shop) so, no matter what your vehicle needs are, there will always be savings.
Contact: Mark Santilli at 910-798-2717 or email mark.santilli@hendrickauto.com
Beds/Custom Closets
More Space Place
Discount: 10% discount on Custom Closets - Murplay Beds - Offices. Visit www.morespaceplace.com. Free in-home or office design.
Contact: Paul Gamsby at 910.399.6091.
Chiropractic
Seaside Wellness Center
Discount: 20% fee reduction to any Chamber member and employees on all chiropractic services.
Contact: Dr. John Weisberg at 910-352-2723
Cleaning Services - Commercial/Residential
EcoMaids
Discount: $129 Full House Cleaning - includes kitchen, living room, dining room, entry, hallway PLUS 1 bedroom and 1 bathroom. Valid for new customers on Initial Service Visit only. Rooms may not be substituted. Additional rooms may be added for $16 each. Homes over 2,500sf and/or more than 20 miles from office will be subjected to an additional charge. Must mention Chamber of Commerce at time of booking. Limit one per household. May not be combined with any other offer, discount or promotion.
Contact: Sofia Artemenko at 910-338-0908
Maid2Clean
Discount: Residential and commercial custom cleaning services - 10% off ALL cleanings to members. No contracts required. Check out website for more info: www.ncmaids.com.
Contact: Jennifer McLeod at 520-8318.
Computer Systems
911 Nerds
Discount: 10% off services
Contact: Larry Graft at 910.338.3900 or lgraft@911nerds.com
Consultants - Business
The Alternative Board (Cornerstone Advisory Partners)
Discount: One-hour consultation on Strategic Business Leadership (SBL). This consultation will help you create a strategic plan for your company or department - focused on improving your profitability and achieving your goals. Includes financial benchmarks for your specific industry.
Contact: Dallas Romanowski at 332-7173.
Cosmetology
Miller Motte College Cosmetology Clinic
Discount: 15% off any cosmetology service (offer expires 11/30/2010)
Contact: Print and bring this flyer to receive discount. Call for an appointment: 202-3001.
Dermatology
Wilmington Health Associates - Dermatology & Laser Center
Discount: 10% off laser hair removal services.
Contact: Catherine Ackerman at 796-6037.
Document Management Solutions
Coverbind
Discount: 30-day trial on any of Coverbind's Thermal Binding Machines. Exclusive for Chamber members are the free covers during the trial period. A $100 value and they come in 7 color choices! If this is the solution to your binding needs, you will get an additional 20% discount off any binding machine.
Contact: Joe Wilson at 910-508-0517.
JHS Document Solutions
Discount: Free scanning of 1 (one) box of documents. Images will also be provided on a CD at no charge.
Contact: John Stemke at 790-9600.
Employment Screening Services
Castle Branch
Discount: 20% discount on background checks for Chamber members.
Contact: Candy Haynes at 888-666-7788 ext. 7252.
Financial Services
Alliance Credit Union
Discount: Free portfolio review and analysis.
Contact: James Gregory - Financial Advisor - Alliance Credit Union - CUSO Financial Services, L.P. at 910.793.2232.
Flooring
Floortex, Inc.
Discount: 10% discount for members and their employees.
Contact: Jon Beals at 910.383.0009
Frozen Yogurt
Orange Leaf Frozen Yogurt
Discount: 20% off entire order.
Contact: Dennis Quaranta at 509-7570
Hair Salons
Solar Hair Salon
Discount: 20% discount on color services (new clients only); 10% discount on hair cuts; and 10% discount on hair care and tanning products.
Contact: Kay Hovious at 620-2874.
Hotels/Motels
Hampton Inn & Suites Landfall Park
Discount: 10% off best available rate
Contact: Sylvia Caldwell at 910.509.0005
Hampton Inn Medical Park
Discount: 15% off room rates
Contact: Kim Garner at 910.796.8881
Residence Inn Landfall
Discount: Additional 10% discount on our best available rates.
Contact: Dan Kovacic at 256-0098.
Sleep Inn
Discount: 10% discount off our best available rate.
Contact: Pat Walters, Director of Sales, at (910) 392-1741.
Jewelers
Kingoff's Jewelers
Discount: 15% discount on merchandise and services
Contact: Michael Kingoff at michael@kingoffs.com
Kennels
The Pet's Pal Inn
Discount: 10% discount on boarding (excluding holidays)
Contact: John or Chris Ponton at 910-452-2424
Landscaping
Outdoor Creations Landscape & Design, Inc.
Discount: 10% off of any Landscape Design & Build services contracts. 10% off any property management contract services. One-half off of consultation and estimation services to members ($150 value).
Contact: Raymond Bray at 343-0777.
Massage Therapy
Miller Motte College Massage Clinic
Discount: 15% off any massage service (offer expires 11/30/2010)
Contact: Print and bring this flyer to receive discount. Call to make an appointment: 254-0995.
Moving/Storage
Two Men and A Truck
Discount: 10% discount on moving service. 20% discount on storage.
Contact: Frank Baker at 763-7990.
Economy Storage
Discount: 20% off storage rental for all Chamber members and receive first month free!
Contact: Shauna Newton at 910.792.1797
Office Supplies, Equipment & Furniture
Office Depot
Discount: Save more money now with office depot!Office Depot will provide exclusive savings on all you business needs, including discounts on:Office Supplies, Technology, Furniture, Digital Print Services and Coffee and break room Supplies.
Let Office Depot save you time and money! Whether you're a company of 1 or 10,000 employees.
Benefits of the Program Include: Next Day Delivery (in all major markets) and Free Shipping for all orders over $50, Top 100 item Chamber Discount list, Copy Paper and Toner Discounted 15% off of lowest "Retail" price found in-store and online, General Supplies discounted 30% off of lowest "Retail" price found in-store and online, Take an additional 5% off everyday lowest price both in-store and online for everything else you purchase, Now over 98% of everything you buy will receive at least a 5% discount off our everyday lowest store or web price!
Contact: Michael Higgins – (910) 233-0653 / Register in-store or online today!
Optometrists/Opticians
Eye Care Associates
Discount: Mention you are a Chamber member and receive $25 off any material purchase. Can be combined with insurance.
Contact: Matt Maderis at 452-0554.
Payroll Service
Paychex, Inc.
Discount: 25% off payroll processing
Contact: Sara Christensen at 465-1779
ADP Automatic Data Processing
Discount: 25% Standard Pricing Discount
Contact: Brian Cilinski at 910-297-7452
Pest Control Services
Lane's Professional Pest Elimination, Inc.
Discount: All Chamber members will receive a 20% savings off a NEW ONE YEAR RESIDENTIAL PEST CONTRACT and/or 20% savings off a NEW RESIDENTIAL SENTRICON TERMITE BAIT INSTALLATION. If you currently have residential pest service with another company, Lane's will offer you 50% savings off your INITIAL RESIDENTIAL PEST SERVICE and GUARANTEE that our price will be lower (proof of previous pest control within the last 90 days will be needed).
Contact: Lorne Hanewich at 800-813-4790.
Physicians & Surgeons
Wilmington Aesthetic Facial Plastic and Reconstructive Center
Discount: 10% off all non-surgical procedures.
Contact: Nicole Luff at 910.762.1070
Wilmington Plastic Surgery & Skin Care Center
Discount: Purchase a Laser package of 6 treatments or more and receive a 10% discount.
Contact: Guy Williams at 509-7546.
Psychologists/Psychiatrist/Psychotherapists
Bridge Builders Counseling Center
Discount: 60-minute free counseling session - new clients only.
Contact: Jennifer Brown at 792-9888 or bbjennbrown@bellsouth.net
Real Estate
Just For Buyers Realty, Inc.
Discount: Will cover the cost of the closing attorney (up to $450) for any member who uses the services of Just For Buyers Realty, Inc. to purchase a home or residential investment property.
Contact: Kathleen Baylies at 470-3190.
Reflexology
Seaside Wellness Center
Discount: 30% off initial reflexology session to all Chamber members and employees.
Contact: Dr. John Weisberg at 910-352-2723
Restaurants/Clubs
17th Street Deli
Discount: 10% off catering trays. 20% off trays ordered 24 hours in advance. Must be for 10 people or more.
Contact: Chris Costantini at 343-1722
City Club of Wilmington
Discount: 70% discount off initiation fee for new members. Membership: $1,500 less 70%.
Contact: Pat Walters at 343-1880 ext. 206.
Gauchao Brazilian Steakhouse
Discount: 15% off
Contact: Leo Andrades at 910.200.5772
Security Services
Holmes Electric Security
Discount: 3 months of free monitoring with any new system installation or when you switch your current monitoring to Holmes Security.
Contact: Jeff Harnsberger at 793-4181.
Signs
FASTSIGNS
Discount: 15% off in-store products ("Late Summer Spark" - good now through September 30, 2009).
Contact: Steve Moore at 395-0100.
Sign-A-Rama
Discount: 15% off all banners.
Contact: Rebecca Kronfeld at 793-4770.
Signs By Tomorrow
Discount: New ownership special offer! Take 15% off of your first order with the new owners.
Contact: Roy Morgan at 799-1111
Sunrooms
Southern Exposure Sunrooms
Discount: 10% off the price of a sunroom or replacement windows and doors (not to be combined with any other offers).
Contact: Peter Murray at 793-2762.
Tax Preparation
H&R Block
Discount: FREE SECOND LOOK (a review of current-year tax return and the previous 3 years' tax returns. We will look for missed deductions and certify that the original return is accurate - or help the client to get it right. The review is covered by The H&R Block Guarantee, and we will provide audit assistance if the IRS audits the client.) FREE TAX INFORMATION - H&R tax experts will come to your business and provide FREE tax updates to all of your employees. FREE 1040EZ - FREE ITIN - FREE EXTENSION FILING
Contact: Kathleen M. Riker or Ed Ostroski at 910.799-8245
Telecommunications
Charter Business
Discount: $100 credit towards business services.
Contact: Derek Mabie at derek.mabie@chartercom.com or visit www.charterbusiness.com/chamber/.
Tricom
Discount: 10% off equipment, 30-day money back guarantee and 5-year free parts warranty on Toshiba Business phone systems.
Contact: Cathy Roberson at 910.202.3100 ext. 2600
Telecommunication - Equipment
Teleco
Discount: 10% off equipment and a 30-day money back guarantee
Contact: Brooke Henderson at 910.202.1055
Website Design/Hosting
Inferno Web Design
Discount: 10% off web and graphic design services. 25% off hosting with production of a new website or with a new maintenance agreement with transfer from an existing provider.
Contact: Justin Luttmer at 794-9643
Wireless Communications
Cellular Sales/Verizon Wireless
Discount: Free high speed USB Internet card (after $50 rebate); normally $99.99. Monthly discounts available. $20 off any phone and 20% off accessories.
Contact: Phil Petrides at 409-2411 or Mike at 409-3222.
Leadership
A 37-member board of directors develops the vision and goals of the Chamber. Each understands the value of the Chamber to the community and its members, and dedicates their time toward advancing the interests of each. Representation on the board is diverse…from family-owned businesses to global corporations. The unique perspective that each member brings to the table is an asset that will serve you and our community well. Meet the board of directors…
Lobbying Efforts
Local and state legislation affecting business is monitored and lobbied for/against by committees, task forces and Chamber staff. Your interests are being protected on such issues as transportation, the port, beaches, health care, the environment, insurance, and more. We also meet regularly with our state and local elected officials to provide our annual Legislative Agenda for Business, direct input from the business community on issues of importance. View the Chamber's 2013 Public Policy Agenda…
Community Improvement
The Chamber works to improve the quality of life in the region through its flagship program Cape Fear Future. The initiative is helping ensure the region has economic prosperity, higher-paying jobs, and the skilled workforce required by area businesses for decades to come.
Economic Development
The Chamber aids the economic growth of the community by attracting new residents and supporting the recruitment of new business.
Contacts
Beginning with Member Briefings, where you are introduced to networking possibilities, the Chamber offers ways to make contacts with other members through socials, expos, conferences, committee meetings, and special events.
Referrals
We receive thousands of requests each year for recommendations on goods and services in the Greater Wilmington area and we refer our members.
Marketing Your Business
Member businesses receive a listing in our online membership directory and announcements of new and renewing members are made in our weekly email newsletter. Numerous marketing opportunities are available through sponsorship of Chamber events, purchase of advertising space in Chamber publications, or through more creative methods like hosting a BizMix social networking event.
Expos
Business-to-business expos are conducted annually which allow members to market their products and services to other Chamber members and the community.
Green Plus
Chamber members can participate in a sustainability program that focuses on practical, achievable, cost-effective steps that will help businesses "go green" and provide long run benefits and, frequently, short run as well. It was developed with smaller enterprise is mind, those with 500 or fewer employees. Participating businesses can achieve certification in the program with reasonable effort that won't put a strain on staff time. The sustainability program is being sponsored by Chamber member Piedmont Natural Gas. There is a fee for participation in Green Plus.
A Membership That's Right For You
Because our members range from sole proprietors to global corporations, and have varying needs from their Chamber membership, we have developed a tiered membership structure that offers a wide range of possibilities.
Find your place in the business community.
Questions? Contact:
Carol L'Esperance
Telephone: (910) 762-2611, Ext. 209
Fax: (910) 762-9765
lesperance@wilmingtonchamber.org